Settlement
PayLater providers will settle the full amount upfront, regardless of the installment plans your customers choose. Your customers' loan repayment will only be between them and the PayLater providers.
Aggregator model
In the aggregator model, all transactions will be settled to your Xendit Dashboard, where you can make withdrawal anytime.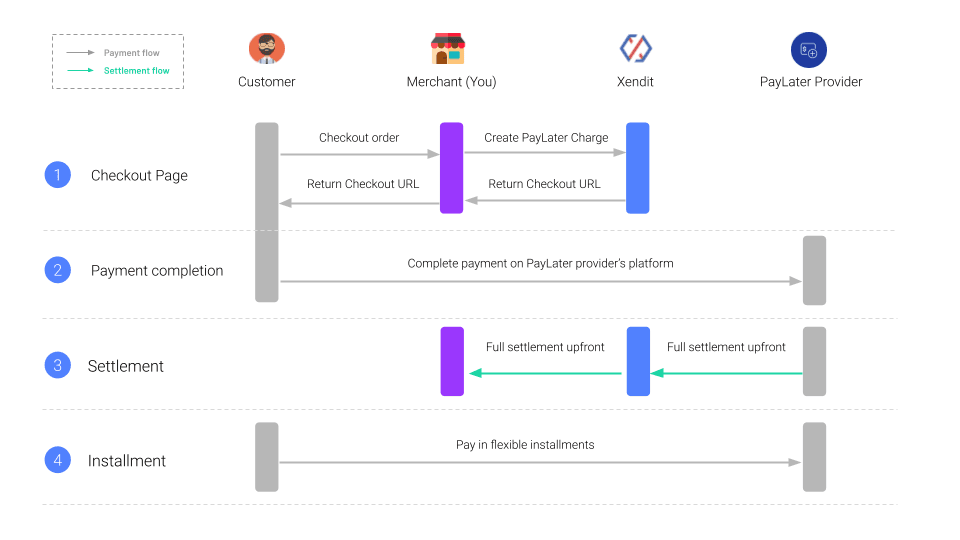 Switcher model
In the switcher model, PayLater Provider settles directly to Merchant's bank account; Xendit is not involved in the settlement process.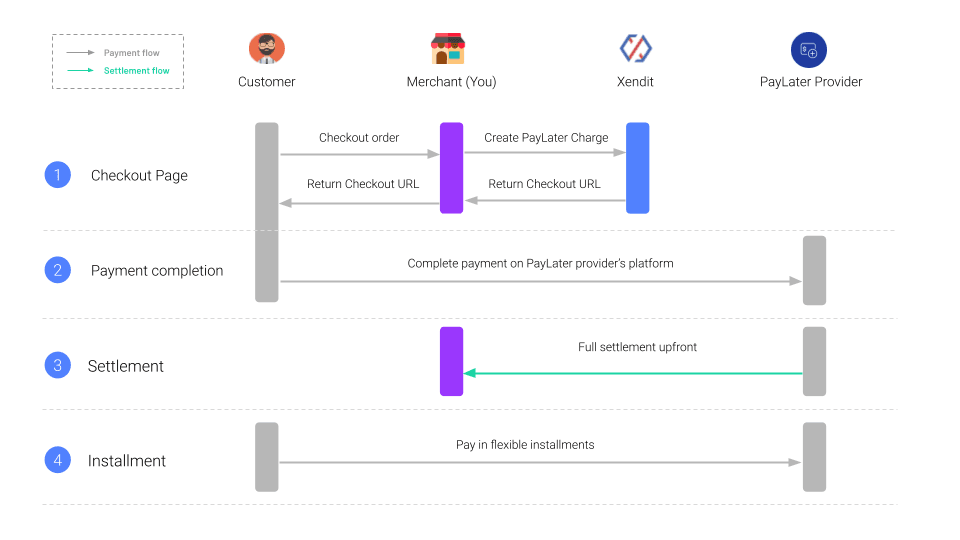 Settlement Summary Table
| PayLater channel | Commercial Model | Settlement time | Billing |
| --- | --- | --- | --- |
| Kredivo | Aggregator | T+4 business days | Fees and VAT will be deducted upon settlement to available balance |
| Akulaku | Aggregator | T+2 business days | Fees and VAT will be deducted upon settlement to available balance |
| UangMe | Aggregator | T+2 business days | Fees and VAT will be deducted upon settlement to available balance |
| Indodana | Aggregator | T+2 business days | Fees and VAT will be deducted upon settlement to available balance |
| Billease | Aggregator | T+3 business days | Fees and VAT will be deducted upon settlement to available balance |
| Cashalo | Aggregator | T+4 business days | Fees and VAT will be deducted upon settlement to available balance |
| Kredivo | Switcher | Friday for Mon 00:00 - Wed 23:59 GMT+7 transactions Tuesday for Thu 00:00 - Sun 23:59 GMT+7 transactions | Fees will be deducted by Kredivo upon settlement to Merchant's bank account |
| Atome ID | Aggregator | T+2 business days | Fees and VAT will be deducted upon settlement to available balance |
| Atome PH | Aggregator | T+3 business days | Fees and VAT will be deducted upon settlement to available balance |
Last Updated on 2023-05-23