PayLater
Online payments have grown tremendously, yet countries like Indonesia and the Philippines still have low credit card penetration. Moreover, the other cash-based options require customers to have full value upfront to complete their purchases.
PayLater offers a solution for these problems!
In recent years, this payment option is gaining popularity amongst e-commerce merchants, and is especially useful for big ticket items like electronics, home appliances and furniture. Many other industries like Fashion, Beauty and even Education are starting to add this option too!
With PayLater, you can allow your customers to buy now and pay later in installments. Customers with an active account in Xendit's PayLater partner can shop in your store via flexible installment loans.
You can enjoy significantly lower payment processing fees than credit cards and bank transfers. On top of that, you will get a full settlement upfront regardless of the plans your customers choose, so you can enhance your operational budgeting. There are no chargeback risks for you as our PayLater partners will take care of that!
Benefits of Using PayLater

Use Cases
Installments for high value items
Increase purchasing power for uncarded and underbanked consumers looking to buy higher value items in your store. Our PayLater partners offer instant approval with flexible credit line and low interest for your customers.
Completion for basket items
For eCommerces, accumulated basket items may decrease your customers' payment completion and increase your cart abandonment. PayLater erases these risks as your customer can finish their payments in a transparent installment with our PayLater partners.
Wide range of industries
Generally, merchants who use PayLater in Xendit are segmented in:
Electronics, smartphones and gadgets
Beauty products & services, clothings, and accessories
Education, membership, online courses and classes
Home Living, furnitures, and appliances
Others, such as ticketing, groceries, baby and kids, etc.
PayLater Providers Available in Xendit
INFO
PayLater is available in Indonesia and the Philippines.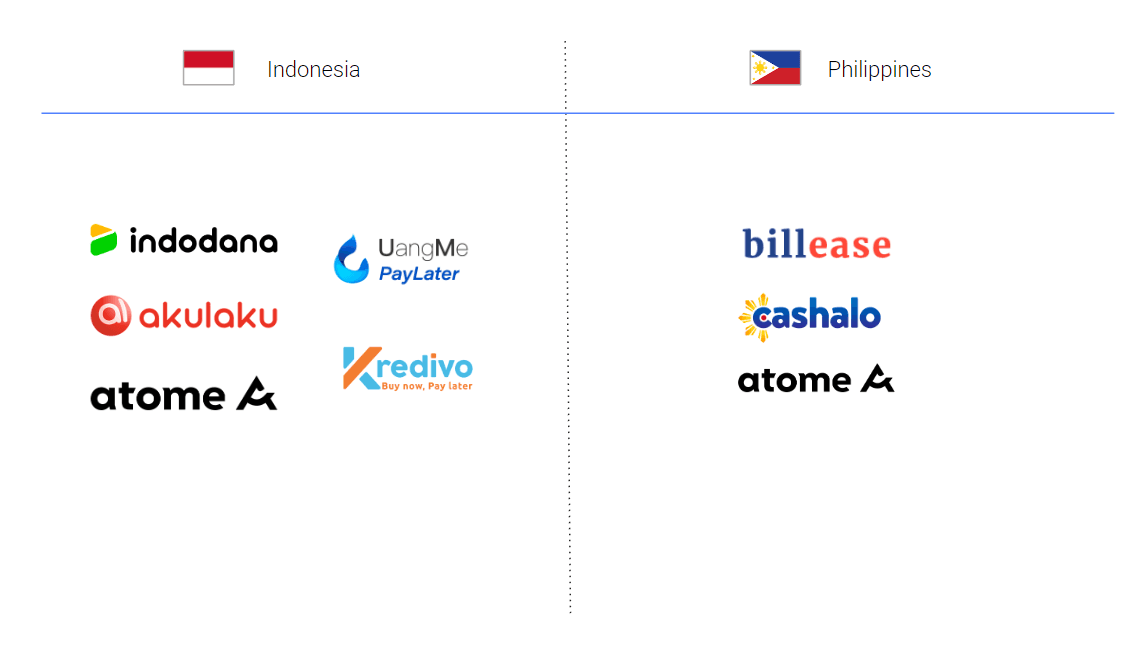 Indonesia : Kredivo, Akulaku, UangMe, Indodana, Atome
Philippines : Billease, Cashalo, Atome
PayLater Plans
Our PayLater partners offer flexible payment plans suitable for every type of purchase. Your customers can make a one-time payment due in 30 days, or choose installments of up to 24 months. The installment plans differ for each end-customer, depending on the transaction amount and their available credit limit. Below is an illustration of the available paylater and installment plans for your end-customer:
Loan repayment is a transaction between the customer and PayLater partner only. Full amount will be settled to the Merchant regardless of the payment plan chosen by the customer. No risks for Merchants as our PayLater partners already have a mechanism for credit and chargeback risks!
Last Updated on 2023-05-23