Cancellations
Cancellations in PayLater
In cases where you want to give customers the freedom to cancel orders prior to payment or want the freedom as a merchant to cancel unfulfilled orders for the purpose of freeing up products to others, us at Xendit support the cancellation of PayLater transactions.
Cancellations and refunds are two different actions. Cancellation will only be available prior to transaction confirmation. This means that customers have not confirmed receiving credit. If the transaction has been confirmed, we suggest you to follow the refund flow here.
Here is the PayLater cancellation flow
Generally during cancellations the end result will be that our payment url will no longer be accessible.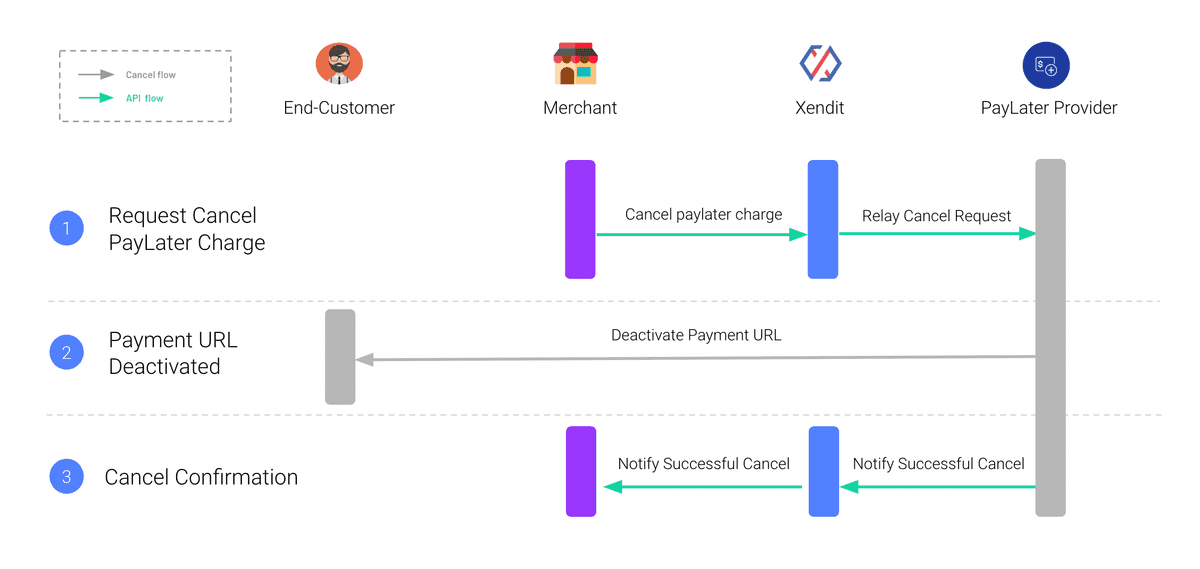 Here is the PayLater cancellation flow with accessible payment URL
In cases where the payment url is accessible, the credit given will automatically be returned and the customer will receive a payment failed screen & be redirected to the failed URL.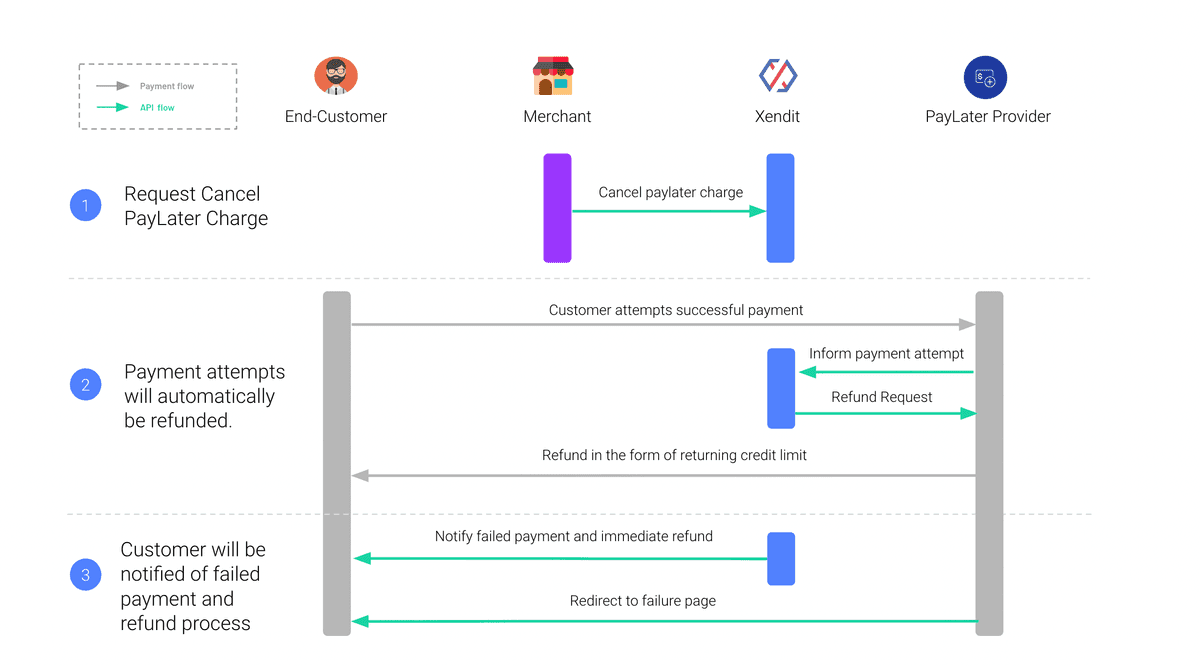 Cancel Rules and Limitations
| Value | Kredivo | Akulaku | Indodana | UangMe | Billease | Cashalo | Atome |
| --- | --- | --- | --- | --- | --- | --- | --- |
| Cancellation API | Available for transactions created using Paylater API (`/paylater`) | Available for transactions created using Paylater API (`/paylater`) | Available for transactions created using Paylater API (`/paylater`) | Available for transactions created using Paylater API (`/paylater`) | Available for transactions created using Paylater API (`/paylater`) | Available for transactions created using Paylater API (`/paylater`) | Available for transactions created using Paylater API (`/paylater`) |
| Cancellation flow | (Payment URL will still be accessible.) If a customer attempts a payment, they will receive a refund and will be redirected to the payment failure page. | Payment URL will not be accessible. | Payment URL will not be accessible. | Payment URL will not be accessible. | Payment URL will not be accessible. | Payment URL will not be accessible. | Payment URL will not be accessible. |
Last Updated on 2023-05-23