Apps & Partners
What is Apps & Partners?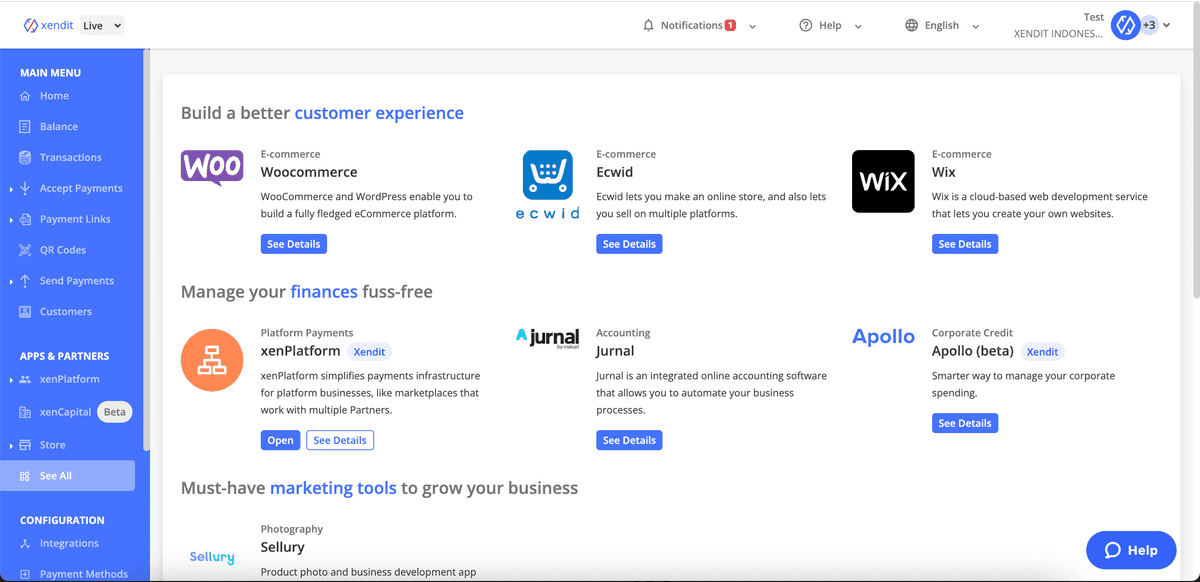 Apps & Partners is a menu that offers Xendit and Xendit partners' applications other than only payment solutions. For example, one Xendit application helps businesses manage complex payment flows (xenPlatform) and another is an integrated partner application to manage and automate accounting (Jurnal).
You can connect your Xendit payment gateway with other applications such as e-commerce, accounting, API and data.
The Apps & Partners page will be updated regularly with the latest apps.
How to use Apps & Partners?
Once you've landed on the dashboard home page, click on the See All tab on the sidebar menu. You will be directed to the Apps & Partners main page and see all of the apps that we offer.
How to understand our app

We offer 2 types of apps: Xendit's and our partners'. You'll find Xendit apps from the Xendit pill tag that follows the title of the app.
We also categorize the apps which you can identify from the category tag on the top of each app. Similar categories fall under one section.
How to install an app
After clicking on the See Details button, there will be a description of the app. Click on the Connect button to use the app and follow the journey it leads you on.
Last Updated on 2023-05-16